Nafasi Mpagua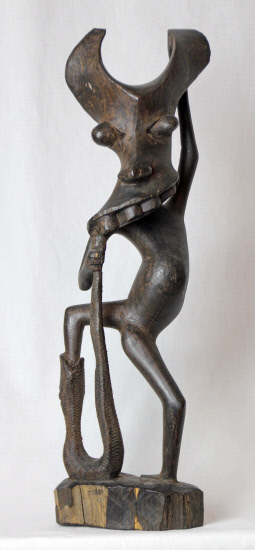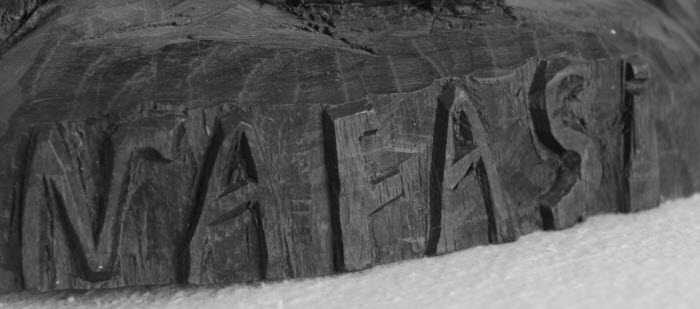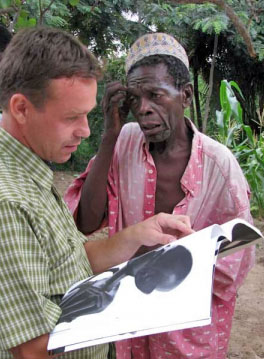 Portrait shot by Daniel Augusta www.afrum.com

 Wie Kashimiri wurde auch Nafasi Mpagua um 1933 in der Nähe von Mueda auf dem Makonde-Plateau in Mosambik in eine Familie von Holzschnitzern geboren. Schon in jungen Jahren, um 1940, wanderte er mit seinem älteren Bruder Gabriele nach Mtwara in Tansania aus, um ab 1958 auf den Sisalplantagen in der Küstenregion nahe Dar es Salaam Arbeit zu finden. Sein Bruder war bereits ein geschickter Schnitzer realistischer Marienstatuen und Makondeminiaturen in Ebenholz und verdiente damit wohl zunächst den Unterhalt für die Familie. Er brachte ihm bei, wie er seine Schnitzkunst verbessern konnte. Bald darauf wurde Nafasi Mitglied der Künstlergruppe von Mohammed Peera. Temporär war er ebenfalls Mitglied der Schnitzergruppe in Kibaha, die in den Büchern von Korn und Kirknaes (1974 und 1999) porträtiert wurde.
Er, der selbst vielleicht nie eine der traditionellen Makonde-Skulpturen, die in weichem Holz geschnitzt wurden, gesehen hatte, beschloss sich auf Shetani-Skulpturen zu spezialisieren. Seit seiner Kindheit war er davon überzeugt, dass Shetanis real und unverwundbar waren und war auch mit den Mythen um sie vertraut (Kirknaes und Korn, 1999).
Nafasi gilt als ein Schüler von Kashimiri Matayo, mit dem er wohl längere Zeit zusammenarbeitete. Unverkennbar sind daher Ähnlichkeiten im Schnitzstil. Der Hauptunterschied zwischen ihren Krokodil-Shetani-Skulpturen besteht lt. Kammerer-Grothaus (1991) darin, dass Nafasi häufig eine Schlange in den Mund eines seiner Shetani schnitzt. Aber auch die Augen seiner Werke unterscheiden sich in der Form deutlich von denen seines Lehrmeisters (siehe auch Schnitzstile).
Er war ein ausgezeichneter Schnitzer mit ganz eigenem sehr sauberem Stil, gelegentlich soll er auch Skulpturen anderer Künstlern kopiert und eigene einfachere Stücke in mehrfacher Ausführung angefertigt haben. Seine Schnitzereien sind von bewundernswert hoher Qualität und haben ihn zu einem meiner Lieblingskünstler werden lassen.
Nafasi hatte zwei Frauen und Familien, eine in der Nähe von Mtwara in Mosambik und eine in der Nähe von Kibaha. Er schaffte es, seiner ersten Frau etwas Geld zu schicken, musste aber auch für die Trinkgewohnheiten seines älteren Bruders zahlen (Kirknaes und Korn, 1999).
Seine aktuellere Geschichte besagt (lt. Daniel Augusta), dass Nafasi, der immer noch in Kibaha lebte, krank geworden sei (siehe auch http://www.afrum.com). Seine makondetypischen Narbentatauierungen im Gesicht und die durch Abfeilen angespitzten Zähne verrieten, dass es sich bei dem Schnitzer, den Augusta getroffen hatte, tatsächlich um Nafasi handeln musste. Seiner Recherche zu Folge lebte er allein und in relativ schlechten Verhältnissen. Noch im Jahr zuvor hatte er scheinbar den Kulturminister während einer Kunstausstellung kennengelernt.

Like Kashimiri, Nafasi Mpagua was born around 1933 near Mueda on the Makonde plateau in Mozambique into a family of wood carvers. Already at a young age, around 1940, he and his older brother Gabriele emigrated to Mtwara in Tanzania where he began to work on the sisal plantations in the coastal region near Dar es Salaam from 1958 onwards. His brother already was a skilful woodcarver of virgins and Makonde people in blackwood and thus earned the subsistence for the family. He taught him how to improve his carving skills. Soon after, Nafasi became a member of the artist group of Mohammed Peera. Temporarily, he was also a member of the carvers group in Kibaha, which was portrayed in the books of Korn and Kirknaes (1974 and 1999).
Nafasi, who himself may never have seen any of the traditional Makonde sculptures carved in soft wood, decided to specialize in Shetani sculptures. Since his childhood, he was convinced that Shetanis were real and invulnerable and was also familiar with the myths about them (Kirknaes and Korn, 1999).
Nafasi is considered a student of Kashimiri Matayo, with whom he probably worked together for a longer time. Unmistakable are therefore similarities in their carving styles. According to Kammerer-Grothaus (1991) the main difference between their crocodile Shetani sculptures, is that Nafasi often carved a snake into the mouth of one of his Shetani. But even the eyes of his works differ significantly in shape from those of his master (see also carving styles).
He was an excellent carver with his very own and very clean style of carving, occasionally copying other artists' sculptures and carving some of his own (more simple) pieces several times. His carvings are of admirably high quality and have made him become one of my favorite Artists.
He had two wives and families, one near Mtwara in Mozambique and one near Kibaha. He managed to send some money to his first wife, but also had to pay for the drinking habits of his older brother (Kirknaes and Korn, 1999). His more recent story (according to Daniel Augusta) says that Nafasi, who still lived in Kibaha, got sick (see also http://www.afrum.com). His makondetypical scar tattoos on his face and sharpened teeth showed that the carver Daniel had met was actually Nafasi. He lived alone and in relatively poor conditions. The year before, he had met the Minister of Culture during an art exhibition.